PRESS & RELATED NEWS
04.06.2014
Unexpected Teleconnections in Noctilucent Clouds
Science @ NASA

New data from NASA's AIM spacecraft have revealed "teleconnections" in Earth's atmosphere that stretch all the way from the North Pole to the South Pole and back again, linking weather and climate more closely than simple geography would suggest. read more
04.16.2014
A Bullseye in the Sky Over Texas
This is a thin glowing layer of Earth's atmosphere rippling in the wake of a huge thunderstorm.
FULL ARTICLE:
http://www.theatlantic.com/technology/archive/
2014/04/a-bullseye-in-the-sky-over-texas/360705/
04.10.2014
Appearance of Night-Shining Clouds has Increased
Science Codex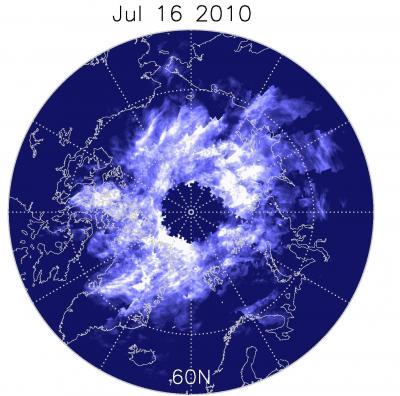 First spotted in 1885, silvery blue clouds sometimes hover in the night sky near the poles, appearing to give off their own glowing light. Known as noctilucent clouds, this phenomenon began to be sighted at lower and lower latitudes -- between the 40th and 50th parallel -- during the 20th century, causing scientists to wonder if the region these clouds inhabit had indeed changed -- information that would tie in with understanding the weather and climate of all Earth.

FULL STORY: http://www.sciencecodex.com/appearance_of_nightshining
_clouds_has_increased-131596
06.28.3013
Mysterious Summer Clouds of the Night
BBC Scotland

Noctilucent clouds are the world's highest types of cloud. Although uncommon, they can regularly be seen from the UK in the summer, with the annual peak in activity about 20 days after midsummer.
The rarefied clouds appear 50 miles (89.5km) above the Earth in the mesosphere, right on the edge of space, and glow with a white-blue light.
Fluffy cumulus clouds tend to sit at just one mile from the ground. The highest common cloud, the thin and wispy cirrus, still only reach around eight miles (12.8km) high.
So what makes noctilucent clouds so different to ordinary clouds, and why do they form?

FULL ARTICLE: http://www.bbc.co.uk/science/0/23003927