PRESS & RELATED NEWS

04.06.2014
Unexpected Teleconnections in Noctilucent Clouds
Science @ NASA

Earth's poles are separated by four oceans, six continents and more than 12,000 nautical miles.

Turns out, that's not so far apart.

New data from NASA's AIM spacecraft have revealed "teleconnections" in Earth's atmosphere that stretch all the way from the North Pole to the South Pole and back again, linking weather and climate more closely than simple geography would suggest. read more




04.16.2014
A Bullseye in the Sky Over Texas
This is a thin glowing layer of Earth's atmosphere rippling in the wake of a huge thunderstorm.

When we see patterns in the atmosphere from space, they tend to be in the clouds of powerful storms. These all have roughly the same form: they look like a spiral galaxy with arms spinning out from the core.

But meteorologists have detected other organizational principles at work. Like, take the fascinating image above. It shows .... well, I wasn't sure exactly what it showed. A meteorologist's blog post described them as "convectively-generated mesospheric airglow waves," but that did not quite explain how they worked or what they were.

So I got in touch with Steven Miller, senior research scientist and deputy director of the Cooperative Institute for Research in the Atmosphere (CIRA) at Colorado State University. Miller and his colleagues discovered these concentric rings while working with the newish satellite Suomi satellite's next-generation low-light sensor. (They published a paper on the discovery in PNAS.)

Miller told me I was looking at glowing ripples in the atmosphere itself!

FULL ARTICLE:
http://www.theatlantic.com/technology/archive/
2014/04/a-bullseye-in-the-sky-over-texas/360705/




04.10.2014
Appearance of Night-Shining Clouds has Increased
Science Codex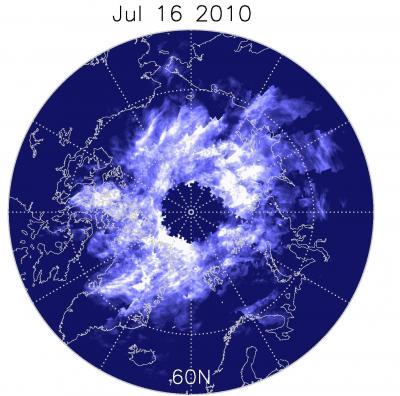 First spotted in 1885, silvery blue clouds sometimes hover in the night sky near the poles, appearing to give off their own glowing light. Known as noctilucent clouds, this phenomenon began to be sighted at lower and lower latitudes -- between the 40th and 50th parallel -- during the 20th century, causing scientists to wonder if the region these clouds inhabit had indeed changed -- information that would tie in with understanding the weather and climate of all Earth.

FULL STORY: http://www.sciencecodex.com/appearance_of_nightshining
_clouds_has_increased-131596