More @ AIM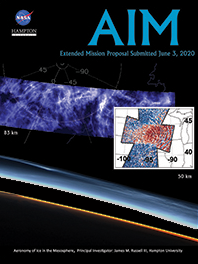 Education Resources
Mission Summary
Media Center
More @ NASA
Science @ NASA
AIM Mission
NASA Aeronomy of Ice in the Mesosphere
More on the Web
Laboratory for Atmospheric and Space Physics, University of Colorado Aeronomy of Ice in the Mesosphere—CIPS Instrument.
Spaceweather.com
Realtime NLC Gallery
Spaceweather (2016, June 29) Climate Change at the Edge of Space
NASA Earth Observatory (2013, June 25) Early Start for Noctilucent Clouds.
NASA Earth Observatory (2011, January 27) Night-Shining Clouds Are Getting Brighter.