Student Symposium, Colima, Mexico in April 2010
Student Symposium, Colima, Mexico

Scientists and science educators from the NASA Education and PublicOutreach (EPO) programs for satellite missions CALIPSO and AIM, directed by Hampton University, conducted their 3rd annual student symposium in Colima, Mexico. This year the program hosted by the Tecnolo'gico De Monterrey, Colima Campus, focused on NASA Satellite Data on Aerosols. Students and their teachers from across Mexico attended the three-day event. Details about the symposium are posted at www.climatechangesymposium.com.

View the Group Photo (PDF: 6.14MB):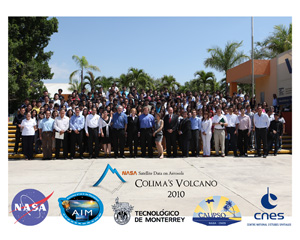 Heliophysics Educator Ammbassador Program and Workshop - Alaska 2009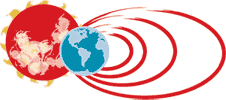 AIM is partnering with six NASA Satellite Missions (Cluster, IBEX, RHESSI, THEMIS, TIMED, and MMS)to form the Heliophysics Educator Ambassador Program (HEA).
The first workshop was held June 21 - June 26th, 2009 in Alaska. For details and information about this workshop, please see the HEA Workshop website.
Student Symposium in Mexico 2009
February 26-28, 2009 a student symposium was conducted at Tecnológico de Monterrey Campus in Guadalajara, México. Representatives from NASA, the NASA AIM mission, Hampton University, Virginia Tech and Fort Hays State University presented. The symposium featured live videoconferences between students and the AIM's Principal Investigator (PI) James M. Russell III.

Congratulations to Paul Adams!
We are extremely pleased to announce that Paul Adams, from Fort Hays State University and our lead AIM, CALIPSO, CloudSat workshop instructor, has won the 2008 National Science Teachers Association (NSTA) Distinguished Teacher Award. Paul is from Fort Hays State University and was nominated by Emma Walton, past NSTA President. I know you will agree that Paul deserves this award for his long time inspirational work in science education.
Sincerely,
Dianne Robinson, AIM Outreach Director
Barbara Maggi, AIM Outreach Manager
Previous Workshops
January 24-26, 2008


Satellite Missions Study Climate Seminar



A joint mission seminar was conducted at Tecnológico de Monterrey Campus in Guadalajara, México.

AIM / CloudSat / GLOBE 2007 Educator Workshop
The workshop was developed and implemented through a partnership between NASA, Hampton University, Colorado State University, and the GLOBE Program. The workshop was held in Alaska because of its optimal location for viewing NLCs.
AIM Launch Conference
Dates: Tuesday, April 24 - Wednesday, April 25 2007
Location: Allan Hancock College, Lompoc Valley Center
AIM / CloudSat / GLOBE 2006 Educator Workshop