ORBITAL SCIENCES CORPORATION
Orbital is responsible for two key elements of the AIM Mission: the spacecraft and the Pegasus launch vehicle. Orbital's Space Systems Division will complete the design and development, and will manufacture and test the AIM spacecraft at Orbital's Dulles, Virginia satellite manufacturing facility. AIM is part of the LEOStar-2 product line at Orbital, which is a highly capable, low earth orbiting spacecraft suitable for space science and remote sensing missions. AIM is the next in the product line that features the successful SORCE and GALEX spacecraft and includes the OCO and Dawn spacecraft currently in development. Orbital's Launch Systems Group will provide the air-launched Pegasus launch vehicle for the AIM mission. To date, Pegasus has conducted 34 missions to launch over 70 spacecraft from 5 different international launch sites and has achieved a 100% success rate dating to 1996.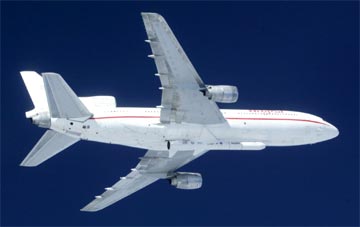 The Pegasus launch vehicle is carried under an Orbital airplane.
Contact Information
Orbital Sciences Corporation
21839 Atlantic Blvd
Dulles, VA 20166
Phone: 703.406.5000