STATUS: 04.03.09
Spacecraft Status
The AIM spacecraft is operating nominally with the exception of the uplink receiver. We transitioned to autonomous spacecraft operations via the On Orbit Mission Planner or OOMP when we failed to have bit lock for several days. This enables the spacecraft to continue pointing accurately and meeting the science instrument requirements. The transition back to command loads is planned for April 5.
Instrument Status

The SOFIE instrument continues to perform nominally; and the turn-on and reset RTS's were uploaded to the AIM spacecraft. .

V1.022 processing continues without problems, and the data quality remains excellent. Validation of the first 3 weeks of data in March 2009 is currently underway

Work continues on comparison of SOFIE PMC measurements with 2 models,CARMA and a thermodynamic equilibrium model The results are being incorporated in a paper for submission to JGR. Analysis of the latest SOFIE V1.022 data to determine PMC particle size is being revisited. The new SOFIE extinctions now extend to higher altitudes and so now do the particle size retrievals, however, treatment of the SOFIE noise threshold is important to prevent anomalous size results. The paper "High Precision Refraction Measurements by Solar Imaging during Occultation: Results from SOFIE" is being prepared for submission to Applied Optics.
CIPS continues to operate nominally. We are attempting to measure a set of southern hemisphere flat field images for calibration purposes. Because the spacecraft went into autonomy mode on 23 March, our first attempt at the images will only be partially successful. On Saturday, 4 April, we will return to ATS control, at which time we will obtain 2 days (out of 8) of the planned images. The rest of the flat field images will be obtained in mid-April. We are evaluating the feasibility of executing monthly flat field observations while in autonomy mode to ensure continuity of the instrument calibration throughout the extended mission.
On DOY 71 CDE conducted a stim calibration of the instrument. After the stim, nominal science operation of CDE resumed.
AIM Science Team Meeting Photo
The AIM Science Team met at the University of Colorado, Boulder for a Science Team Meeting March 16-19, 2009.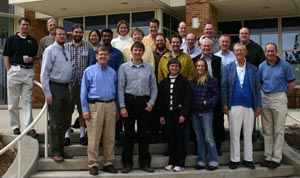 New Time-Lapse Video of the STS-119 Man-made NLC
View the Space Shuttle Discovery Launch Exhaust trail as it is illuminated by the setting sun. A Noctilucent cloud appeared at above 60-70km.
New NASA eClips Video
Night Shining Clouds
NASA eClips
The clip features interview segments with Dr. James M. Russell, AIM's Principal Investigator.
See more on our Library's Video and YouTube Pages.