STATUS: 05.26.2016
Instrument Status:
The AIM spacecraft continues to perform well.
CIPS:
CIPS has seen the first clouds of the NH 2016 PMC season! We had possible detections two days ago, but there was too much uncertainty to declare them as the first clouds. The signals that appeared in today's preliminary data, which is for 24 May, are definitely clouds. Below is a section of one of the orbit strips that shows the clouds.
With the new mode of operations we have had to redesign the CIPS retrieval algorithm and data products. It has taken a tremendous amount of work on the part of many people on the AIM team to reach this point. Too many people contributed to this success to name them all, but in addition to the mission ops and data system teams, I would like to thank and congratulate Justin Carstens for his work in developing and testing the algorithm.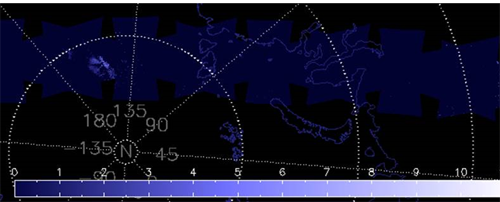 Space Weather News for May 27, 2016
http://spaceweather.com
https://www.facebook.com/spaceweatherdotcom

NOCTILUCENT CLOUD SEASON BEGINS: On May 24th, NASA's AIM spacecraft spotted wispy electric-blue clouds floating above the Arctic Ocean. This marks the beginning of the 2016 season for noctilucent clouds. Seeded by meteoroids, icy noctilucent clouds form at the edge of space where they can be seen shining in the night sky. Each year, their first detection by spacecraft is usually quickly followed by ground-based sightings. Indeed, a photographer in North Wales spotted some this morning. Visit http://spaceweather.com for photos and observing tips.