STATUS: 06.20.2015
Instrument Status:
The AIM spacecraft continues to perform well. All subsystems are operating as expected.
CIPS:
First NLCs of 2015 Northern Season Spotted on May 19.
The 2015 season for NLCs started on May 19th when NASA's AIM spacecraft spotted a patch of electric blue over the Arctic Circle. Since then, the clouds have been creeping south and, on June 8-9, they crossed the border into the lower 48 US states.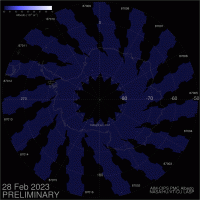 Updated at: 06-09-2015 16:55:02
Browse CIPS Daily Daisy Images
http://lasp.colorado.edu/aim/browse-images.php
Spaceweather.com's Article about First NLC's of 2015 Northern Season