STATUS: 07.20.2012
Spacecraft Status
All of the AIM spacecraft subsystems continue to perform well. During our last period of bitlock on May 23, we loaded several products to improve three areas of the spacecraft's performance. First, we improved the overall spacecraft pointing. Next, we ensured that the state vectors could continue to be calculated as the orbit naturally decays over time. Finally, we ensured that the patch which rejects spurious safehold attempts will be reloaded in the event the safe mode computer should ever reset.
Instrument Status

SOFIE enters its 7th year of operation with all housekeeping and science parameters within nominal limits and no issues with the automation flight software. With this Northern Hemisphere summer, SOFIE is now observing its11th PMC season. The validation of this data is nearly completed and it will be released to the public very shortly. Retrievals using daily-averaged signals have been done and will be analyzed for seasonal variations in meteoric smoke.
CIPS continues to perform well, with no health issues. The NH 2012 season so far appears to be fairly typical. This is somewhat surprising, given that the solar cycle is approaching maximum, so we expected to see fewer clouds. The figures below show the ascending node daily cloud frequencies at 80° and 65° latitude, for all NH seasons thus far observed by CIPS.


EPO Update:
On June 17, 2012, Gloria Faus, conducted an AIM/PBL presentation at the NASA Innovations in Climate Education (NICE) DUST workshop, implemented by Hampton University, at Graves Mt. Lodge in Syria, VA. She demonstrated how she and her students used AIM content to develop a Problem Based Learning (PBL) module. Her presentation will be posted at http://dust.hamptonu.edu Ms. Faus is a former AIM workshop participant who continues to work with AIM outreach.
New ISS Photo
eol.jsc.nasa.gov
The Gateway to Astronaut Photography of Earth, a beautiful NLC Photo from the ISS taken summer 2012.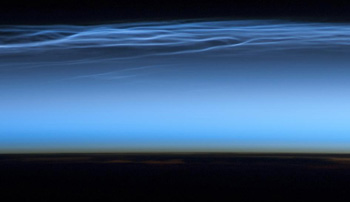 click to view full size image