STATUS: 06.07.10
Spacecraft Status
As we enter another PMC season, the AIM spacecraft continues to operate routinely and well. Aside from experiencing several long periods without bitlock, all systems are performing nominally (time of last bitlock event was May 30th). The June Northern Hemisphere Flat Field observations were put into the command uplink queue on June 2nd and await bitlock.
Instrument Status

SOFIE continues to operate normally. The switchover to the new autonomy FSW image should occur on June 23rd. The first cloud of the northern PMC season was sighted on May 21st. Release 2 SOFIE data processing is completed through June 6 and we are finishing the validation on May 30-June 6, 2010 period before releasing to the public. There are a few remaining tasks to complete on the next release of the SOFIE data processing software. The most important one is the PMC correction in the Ozone channel using the extinction measurement from the 0.33 micron channel. We are performing an error analysis on the SOFIE H2O channel to characterize the systematic errors in the retrieved H2O.

Below is a plot of the current PMC season compared to the other NH seasons. The 2010 season has started roughly the same time as the previous seasons, with the exception being a few early clouds (~37 days from solstice).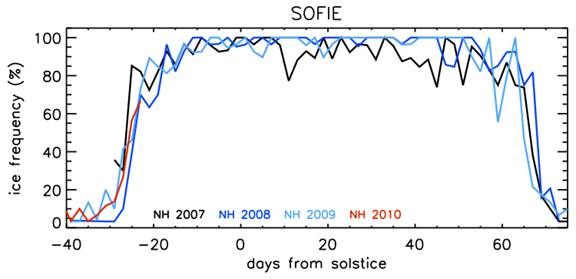 View this image in Featured Data
CIPS continues to operate nominally. The plot here shows the percent of observations in which a cloud was detected each day for all NH seasons observed thus far, including the current season (for which the last day is 5 June, or DFS -14). Note that there are "false" detections prior to DFS -24 that must be considered in interpreting the data. So for the current season, our first cloud detection occurred on May 28, and the season appears to be starting out a bit more slowly than previous seasons. The data are currently being processed with calibration data from March 2010. Each month, if enough bitlock is achieved, we acquire new calibration data, which allows us to improve the statistics of the delta-flat calibration and normalization. The final calibration will be applied at the end of the season, using all available calibration measurements. Thus, the data files that are currently being posted, and the conclusion that this season is starting more slowly than past seasons, should be considered preliminary.
Progress is continuing on our next retrieval version, v4.10. We have processed two full seasons with the new algorithm, and are evaluating the results. We anticipate a September 2010 release date.