STATUS: 010.13.09
Spacecraft Status
The AIM spacecraft continues to operate nominally. Autonomy switched to Southern Hemisphere imaging for CIPS on September 23rd, in preparation for the upcoming Southern Hemisphere PMC season which will begin in November. As of Oct 8, there has been no bitlock for 33 days. The record number of days without bitlock is 36. We hope to begin work soon on adding CIPS Flat Field imaging into AIM autonomy.
Instrument Status

The SOFIE instrument continues to operate nominally. There were no anomalies reported. The release 2 version 1.022 data processing continues as improvements in the next software release are being tested. The SOFIE data will continue to be processed using the current software until the next software release is implemented; this will provide an uninterrupted monitoring of the data for quality issues. Analysis of on-orbit SOFIE FOV calibration data suggests that the off-axis response is slightly larger than expected. The on-orbit data are being used to derive new FOV functions for the 16 SOFIE bands.
CIPS continues to operate nominally. We switched to southern hemisphere data acquisition in late September; all data files will be marked as "preliminary" until we obtain calibration data for the 2009-2010 season. We still have not yet acquired a full set of flat field images for the northern hemisphere 2009 season – commands for these images have been uploaded, and will begin executing on 14 October; for these images only, data will of course be acquired for the northern hemisphere.
Rapid progress is being made on implementing a new retrieval algorithm, for which the primary goals are to improve the background removal process and to introduce a more rigorous error analysis using an optimal estimation approach. We are on schedule to process the first full season of data this week, with other seasons to follow shortly thereafter.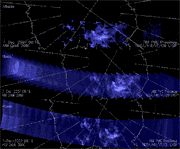 Click image for enlargement and details.
The image here compares the albedo from the new method to the v3.20 (currently operational) albedo for orbit 3660 in December, 2007.
Read More Detail >